Computer Science
COMPUTER SCIENCE, IT and iMEDIA
Subject Information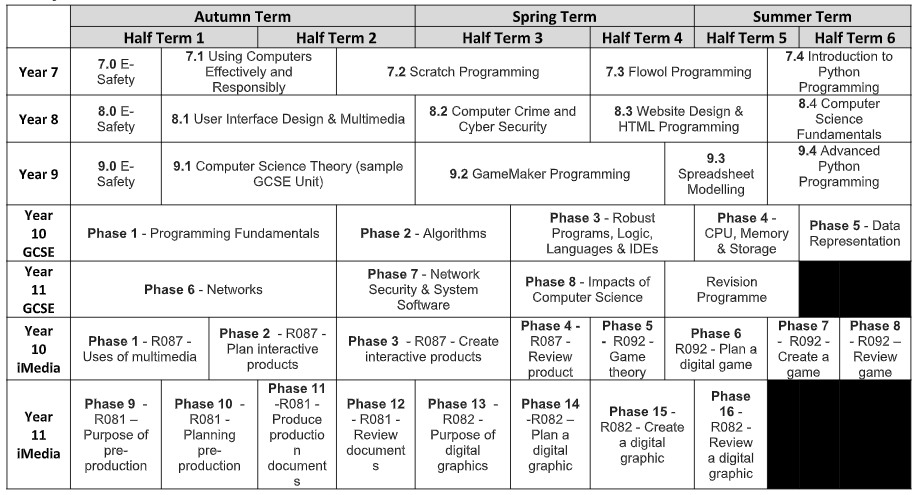 The department aims to:
Provide a broad and balanced curriculum that challenges and best prepares students for their next learning phase.
Support students to ensure our curriculum meets the needs of all students.
Set high expectations of all students in terms of their progress and behaviour so all students are able to reach their full potential.
Challenge students to be independent so they can be effective lifelong users of digital technology.
Equip all students to use technology safely and make good decisions in the online world.
Ensure all students have essential digital skills that can be applied across the curriculum and in the workplace.
Provide a positive working environment that is well resourced and stimulating that encourages student's creativity to allow them to flourish.
Staff
| | |
| --- | --- |
| Mrs Howes (SH) | Curriculum Area Leader for Computer Science |
| Mrs Bartlett (SB) | Teacher of Computer Science |
| Mr Goulding (BG) | Teacher of Computer Science |
| Mrs Chendo (AJC) | Teacher of Computer Science and Business Education |
| Mr Latham (SL) | Network Manager |
| Mr Howard (JH) | HL IT Technician |
Additional Information
Acceptable Use Policy (AUP) – Access to the school network is provided for students to carry out recognised schoolwork and extra-curricular activities, but only on the condition they agree to follow the AUP. Every time students log onto the network, they are required to abide by this.
Extracurricular programme:

Computer Science Club, here students have the opportunity to:

Attempt the weekly Computer Science challenge

Read a Computer Science book

A Level coding and drop-in code debugging sessions, allowing students to get help with their Computer Science programming code.

1-2-1 programming coursework tutorials

CyberFirst Girls Competition – From November 2021, the department will enter the national CyberFirst Girls Competition. Students will compete in an online qualifier as a team and complete cyber security challenges. Students then have the opportunity to be put forward to compete against other schools in a regional competition and then possibly enter the national competition.
Key Stage 3 iDEA award – Students gain an international Inspiring Digital Enterprise Award. This allows students to:

Enhance their skills and knowledge

Improve their digital literacy

Learn about staying safe online

Get more confident with technology